Caviar Nominated For "Best Performance" By An Endangered Species During Oscar© Party Season, Studio Chiefs Asked To Declare Beluga Caviar Off Hollywood's "Hot List"
Conservation Groups to Run Ads and Send Gift Baskets with Alternative Caviar to Studio Heads and Party Planners
(March 12, 2001) -- While Oscar Night® celebrations will feature statuettes and champagne, conservation groups want to keep beluga caviar out of the festivities. On Monday, March 12, the Caviar Emptor campaign will ask heads of motion picture studios nominated for "Best Picture" to leave Beluga Caviar off their Oscar® party menus. Allowing beluga caviar to give up its seat at the Oscars® will help relieve pressure on the critically endangered beluga sturgeon, the source of this delicacy.
Full-page ads entitled "And the Winner is…. Unfortunately Extinct," will appear in Variety's special Oscar® Edition and the Hollywood Reporter on March 12th. The campaign will send gift baskets with environmentally preferable alternative caviar to the studio chiefs along with the organizers of other major parties including the Governor's Ball and Vanity Fair.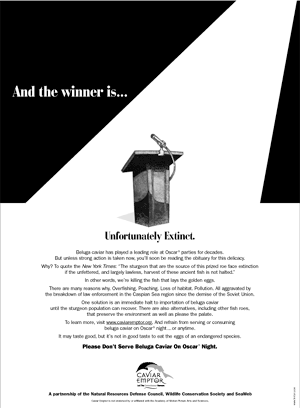 Click for full-size version
"Who doesn't think of caviar when they think of glamorous Hollywood parties? But we're killing the fish that lays the golden eggs, and unless we shift to more sustainable alternatives, beluga caviar will be history," says Lisa Speer, senior policy analyst for Natural Resources Defense Council, a partner in the Caviar Emptor campaign.
The gift baskets will include farmed paddlefish caviar, a more environmentally friendly alternative to endangered beluga caviar, along with crackers and champagne. In addition to the studio chiefs, recipients will include Oscar® telecast producer Gilbert Cates and Wolfgang Puck, chef for the Governor's Ball.
"We want to let everyone know that while beluga caviar may taste good, it's not in good taste to eat something so endangered," says Vikki Spruill, president of SeaWeb, another partner in the campaign. "Just as celebrities don't want Joan Rivers to catch them in a fashion mistake, we don't want to see celebrities caught making this food faux pas."
Rick Moonen, head chef of New York City's popular seafood restaurant Oceana, agrees. "With all the alternatives, why would anyone eat something so threatened?" asks Moonen, who no longer serves beluga caviar in his restaurant. "I am excited about offering my customers something new that is incredibly delicious; people need to know that some of the sturgeon and paddlefish caviars farmed in the U.S. have great texture and flavor, and are a great alternative to beluga."
Beluga sturgeon in the Caspian Sea are facing threats from overfishing, poaching, habitat loss, pollution and poor regulations, particularly since the dissolution of the Soviet Union. "People don't realize that they are eating the eggs of an endangered species when they eat beluga caviar," says Dr. Ellen Pikitch, Director of Marine Programs of the Wildlife Conservation Society, a campaign partner. "This fish is as old as the dinosaurs but consumer demand is pushing them to the brink of extinction. We have to ask, can we really have our caviar and eat it too?"
Caviar Emptor launched in December 2000 as a partnership of Natural Resources Defense Council, Wildlife Conservation Society, and SeaWeb. The campaign seeks a halt to international trade in beluga sturgeon; calls for greater international funding for efforts to protect and restore Caspian Sea sturgeon; and points consumers to preferred environmentally-friendly caviar alternatives.
###
For interviews with the spokespeople or photos of the gift baskets being sent to the studios, please call Charles Longer or Valerie Holford at (202) 822-5200. Background information on the campaign and a report on beluga caviar can be found at www.caviaremptor.org.
Academy Award(s)®, Oscar®, and Oscar Night® are the registered trademarks and service marks of the Academy of Motion Picture Arts and Sciences.
Caviar Emptor is not endorsed by or affiliated with the Academy of Motion Picture Arts and Sciences.
Home | Latest News | Press Room | Timeline

Contact Us: [email protected]